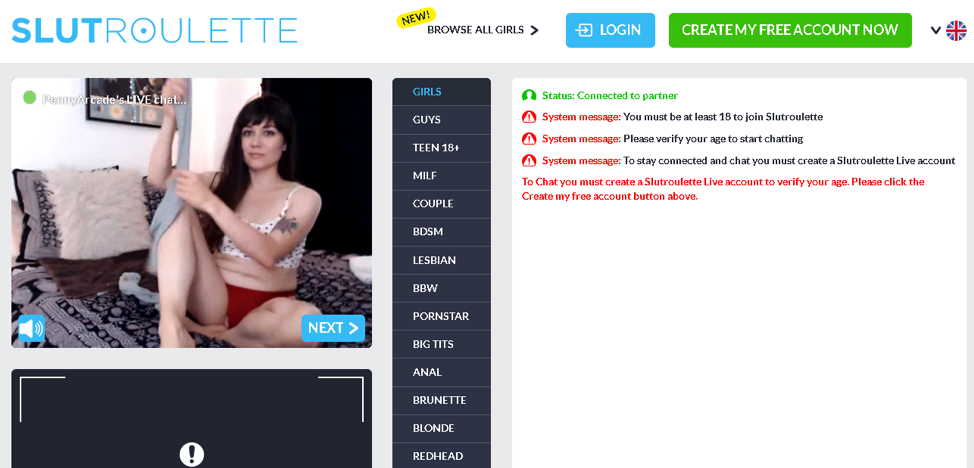 Tired of watching the same old pornstars doing the same old sex positions you often see in hundreds of porn videos online? Maybe you just need something else to shake things up in your porn life. Or maybe, you want to be the one who would call the shots instead of a porn director that works behind the scenes of your favorite adult films. Thankfully, there is a particular porn niche that caters to this need: live sex cams.
And, if you are looking for a live sex cam site that can help you find the ideal porn girl of your wet dreams and more, we recommend Slut Roulette.
What is Slut Roulette?

Slut Roulette is actually an adult version of ChatRoulette. If you do not know the latter, it is basically a chat site where you are randomly paired with a stranger, either male or female, of whom you share common interests with. The difference is that Slut Roulette lets you get paired with only one gender—female, and lets you do so much more than chatting about hobbies and goals in life (although that is not a bad idea either).
The primary selling point of this adult chat roulette is the fact that most, if not all, of their live shows are FREE!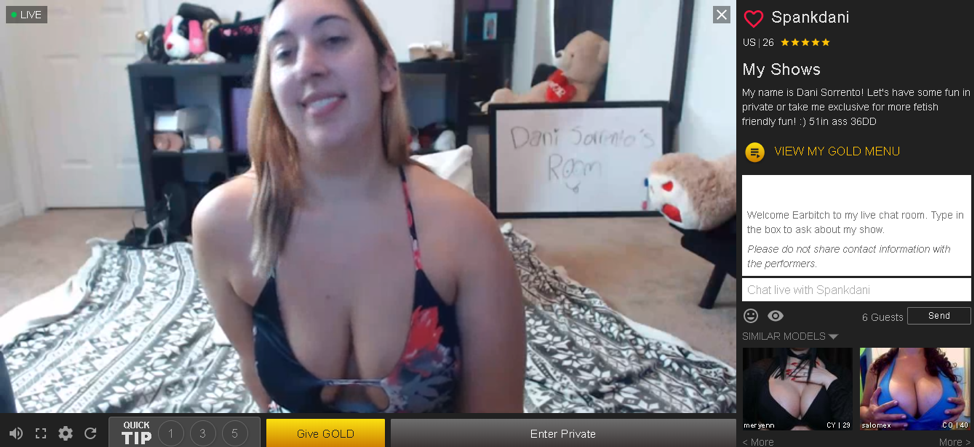 That's right. You can watch a cam model strut her stuff and showcase her sexual prowess and performance without putting a dent in your bank account. Slut Roulette has both amateur and professional cam girls in their platform so you can be sure to find different degrees of pleasure you in terms of porn scenes. Are you into softcore porn? Or you probably enjoy a good BDSM scene with a hot dominatrix or a bratty submissive. Whatever kinks and hidden fantasies you have, a Slut Roulette cam model can surely provide that for you.
Introducing: Random Sex Cams
For porn lovers and sex cam enthusiasts out there who do not want to scour through tons of catalogues just to find the perfect cam girl to chat and watch, Slut Roulette is a heaven-sent. This sex cam site has a random cam window in their homepage that randomly pops up a cam girl that is online at that particular moment.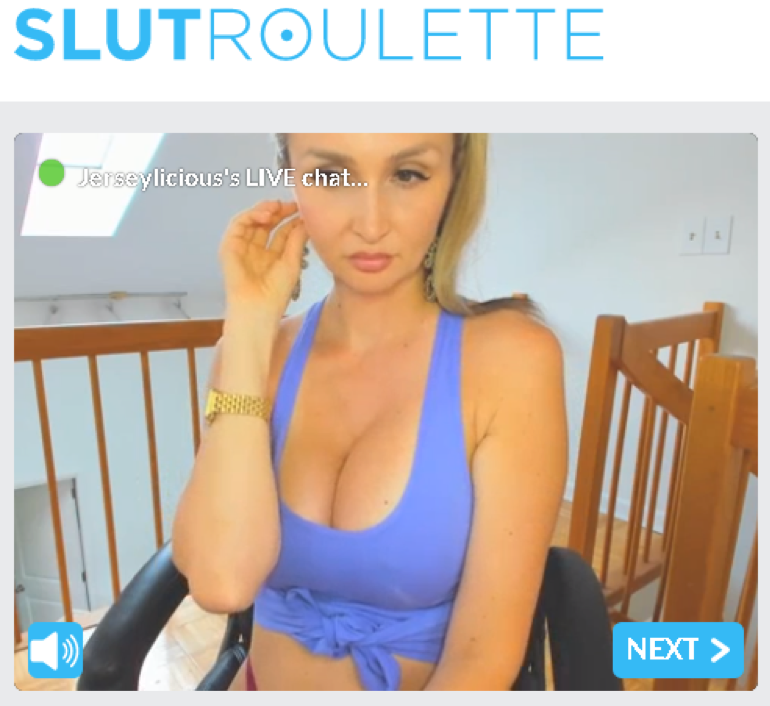 Indecisive types can benefit greatly from this adult sex cam feature. Instead of spending hours in finding the cam model you like, all you need to do is open their homepage, click a category found at the left side of the chat box window, and wait for the random cam to randomly generate a cam girl that specializes in that category. They have a particular space for those who love blondes, BBW, and sexy Asian cams.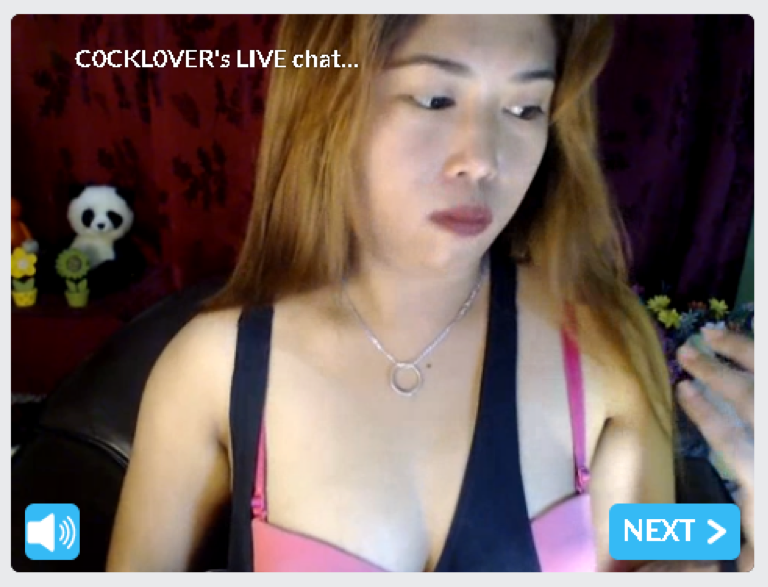 If it so happens that you don't particularly like the random cam girl that the random cam generator presented to you, you can always choose someone else. That is all thanks to the "NEXT" button found at the bottom side of the random cam screen. You can click on it as many times as you want until you found a particular girl you like.
We do recommend, however, that you refrain from using it. Take a leap of faith and try the very first cam girl that goes onto your window. Each cam model that uses the platform is tried and tested professionals in live sex cams. They certainly know how to please an audience. At least give them that chance. Who knows, a cute Asian redhead could possibly make you fall ridiculously horny with redheads forever. You'll never really know until you try.
Enjoying the Perks
So how do you register and maximize the perks that this adult chat roulette has? Firstly, you have to register. Thankfully, creating an account in Slut Roulette is easy. What you only need is an email account. Click on the "Create My Free Account Now" button at the top part of the home screen. You will then see this popup box.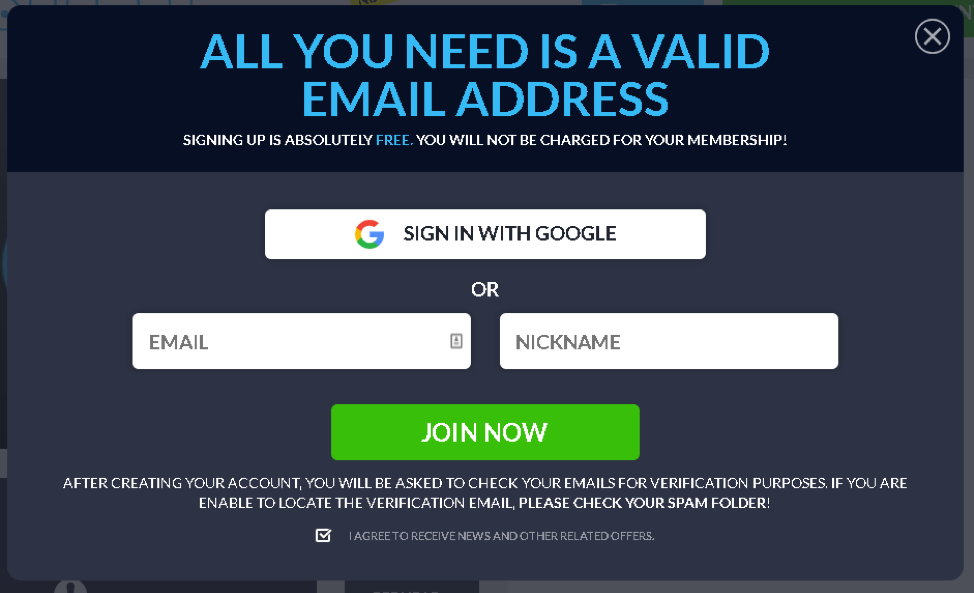 As you can see, you can either log in by linking your Google account, or register manually. Doing the latter requires you to create a username that you will use every time you log in on the site. This would also be the means that cam models would use to identify you once you are inside their chat rooms.
After registering manually, you will receive a verification email in your inbox. This is to help in verifying that you are an adult and are therefore eligible to use the site. After clicking on the link, you will automatically be logged in to Slut Roulette and can now browse their catalogue of horny men and women.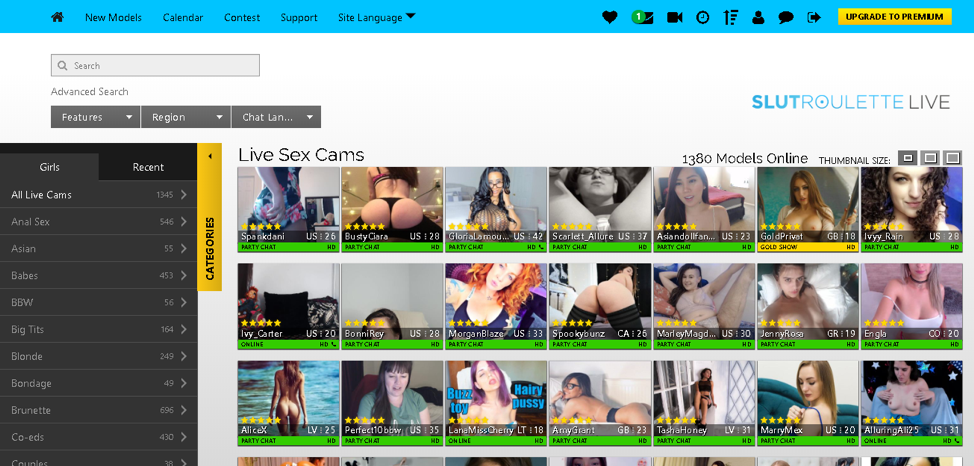 Meeting the Horny Ladies
Each thumbnail has a label that indicates the availability of the cam model. "Party Chat" means that the cam model is available for a group chat and is happy to perform a free live show for anyone who enters. If you want to jerk off with a hot model without paying tons, then this is your best option.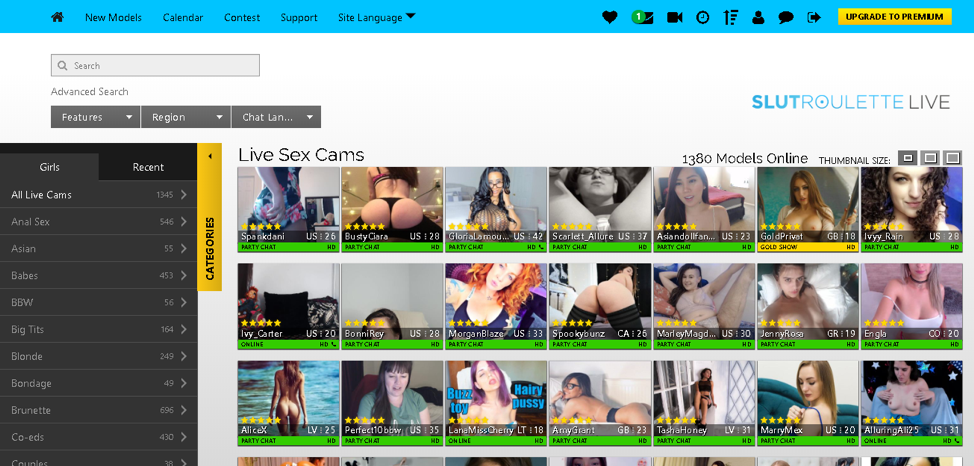 On the other hand, a cam model that is "Online" means that the cam model is currently using the platform but is on a private show. All cam girls often do live shows for free. But, they can sometimes do one-on-one sessions on anyone that is willing and able to pay a little extra to watch them strip, suck, and play with their pussy for a limited time.
Private show prices are dictated by the cam model herself. Before participating in one, the website will inform you how much it costs. Thus, you can freely bail at the last minute if you don't feel like paying. And you don't really have to if the cam model offers free live shows in her chat room.
Going for the GOLD
To show appreciation, however, you can leave tips instead. Every cam model accepts specific requests if you leave her a tip. Tips can be given in GOLD, which is the currency used in Slut Roulette. 1 GOLD is equivalent to 1 unit currency in your home country. For example, if you are living in the US, 1 GOLD is equal to 1 US dollar. If you are from Canada, it is equivalent to 1 CAD, and so on.
If you feel like spending tons of GOLD for a premium live show, then you can never go wrong with a GOLD show.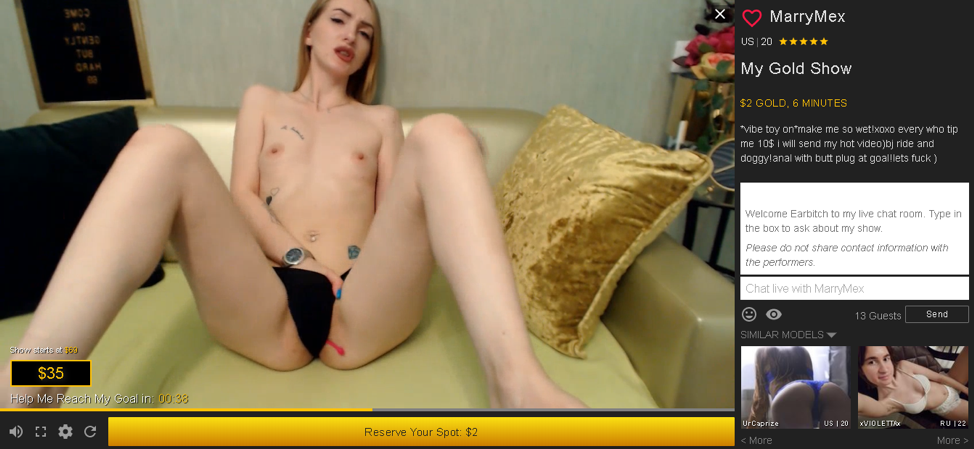 These shows are exclusive and private ones that require every guest to pay before entering. Once you visit a cam model that offers a GOLD show, you will see a teaser on what you can expect on the show. This will give you ample time if you want to go inside or not. Most GOLD shows offer free live chat before entrance so you could be given the chance to know the model first before you spend your hard-earned cash.
Final Verdict
Their random cam feature, huge catalogue of cam models, and their free live shows finally convinced us that this adult chat roulette site is a must-visit for anyone who would love to explore the world of live sex cams. You don't need to burn a hole in your pocket just to experience premium live sex. All you need is a good site that offers one for free. Visit this adult webcam site today and experience their perks for yourself.